Rihanna is not letting up she is firing on all cylinders and this time she is getting her grown and sexy on in the new issue of Giant Magazine.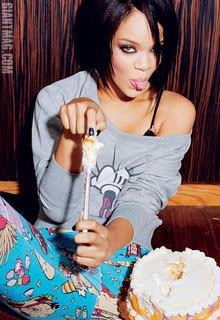 In the interview she addresses the rumours about her and her label boss, Jay-Z. She says:
"I guess it's just the affiliation with him. Being a female and being on his label and having a close business relationship. I guess that sparks the rumors. I'm guessing. Because there's no other way. At first it was funny, like Ah this is so funny! Why would they think this? Really? Ew. Then it was like they're still talking about this? This is getting a little frustrating now. Can they cut this out? Because it got really intense where people just weren't letting up. Then it turned into a "beef" between me and Beyonce. I was like where are these people going with this? This is crazy."
To check out more highlights from the interview visit
GIANT.COM
.
With Umbrella sitting pretty on top of the Billboard Hot 100 with digital sales of over 277,000, surely Good Girl Bad is a dead cert for the top of the album charts next week. Rihanna has been everywhere recently but you have to admit that all her hard work is paying off. All this talk of Rihanna's chart success just makes me wonder why Kelly Rowland doesn't take a page out of her book and step her promo game up. Naturally you would have thought that Kelly would be next in line to follow Beyonce's lead into superstar status but it seems like a losing game since
Like This
is nowhere to be seen in the Hot 100 top 50.
While we are on a this Rihanna overload peep a brand new promo pic for Good Girl Gone Bad below:
Flawless! Can't hate Rihanna is doing the damn thing!