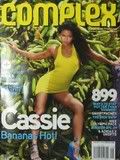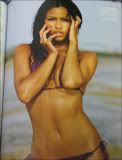 The poster child for 'f*uckin' for tracks' returns with more ass shots on the cover of Complex magazine's August/September issue. It's no need debating over Cassie's vocal ability when she looks this hot but don't get too excited she hasn't gone back to modeling, her new single,

Official Girl

feat the man of the moment Lil Wayne has been making the rounds on the net for a few weeks now. Diddy's rumoured sideline ho is not just going to fade away since he coined the term 'we won't stop, cos we can't stop', so lawd help us!
Anyway I have got to hand it her she is doing the damn thing in this shoot!