I've been busy as hell so the updates were slow last week but I'm back now so let me catch up on some of the goss I missed.
The Catch-Up....
Cassie Dropped From Bad Boy Entertainment?
The gossip blogs have been buzzing about the news that Cassie's non-singing ass has finally been dropped from Bad Boy Entertainment. Oh well for some reason I think that might be wishful thinking for the most part since her debut album was a moderate success and Diddy took every opportunity to defend her poor live performances. Anyway if Diddy has finally come to his senses and dropped her ass I'm sure this won't be the last we see of her because she could always f*uck for some more tracks.
Eve Preps The Release Of New Album Here I Am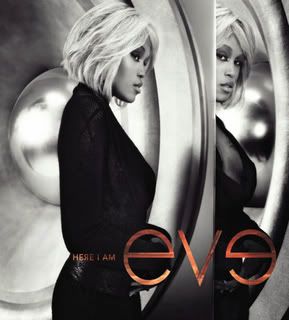 After taking a four year hiatus from the rap scene to focus on Hollywood and fashion, Eve is back with her new album
Here I Am
which is set for release August 7. Eve needs to come real hard with this new album since there is no competition in the game right now with Lil Kim busy working on her comeback and Foxy catching cases all over the place and misbehaving her crazy ass.
The triple threat diva Here I Am is shaping up to be her best release yet:
"This is the album I've always wanted to make," she says. "In the past my albums have had a heavy male influence. Not this time. This one represents the woman I am today."
Eve is already on a promo blitz, she hit up MTV's TRL last week to promote her new single Tambourine. Peep the flicks below: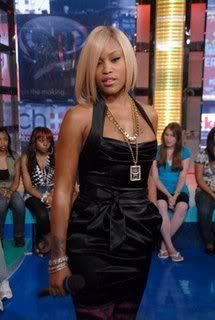 Jill Scott in Concert at Radio City Music Hall in NYC last Wednesday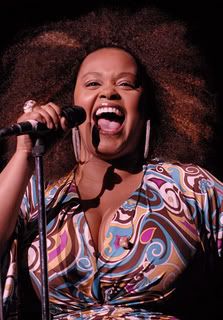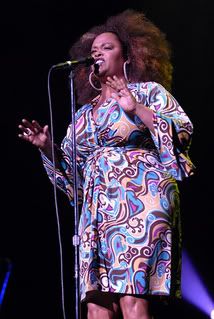 Ciara On Set of

Can't Leave 'Em Alone

Music Video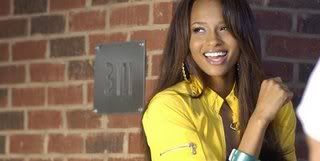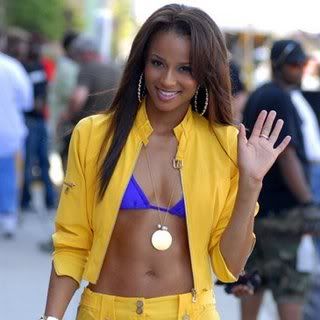 Ciara shot the video for her third single, Can't Leave Em Alone feat 50 Cent from her sophomore album The Evolution a few days ago. Cici looks really cute here and although I'm not really feeling this song I'm can't wait to see the video.

Christina Milian and her nephew @ Fred Segal in LA On Sunday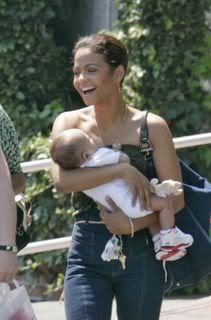 Christina will be shooting a ABC Christmas movie called Snow Globes in July and August in Calgary, Canada. She is currently shooting new CW show Eight Days a Week which is about the lives of young people who work for big wigs in New York City.
View the promo pic for Eight Days a Week below:
Joss Stone Performs At Revolution Nightclub In Ft. Lauderdale, Florida on Saturday
Joss Stone has put her Ex... music producer Beau Dozier on blast, branding him "disgusting" for revealing details about their failed relationship to British Tabloid, News of the World last year.
She says, "On my God! Disgusting.
"Maybe one day I'll understand why he decided to that, but right now. It's beyond my comprehension."
I'm not a Joss Stone fan at all but I have to agree with her on this one I remember reading the interview with Beau last year and I was puzzled because all he talked about was that their 18 month relationship was not sexual and blah blah. I was like who the hell cares...next! Now if he
did a Dallas Austin
and ranted about her f*cking for tracks then that would have been more interesting.
Denyce Lawton @ Phoebe Price's launching of 'Phoebe's Phantasy' by Lotion Glow on Saturday at the Kaje Store in Beverly Hills
.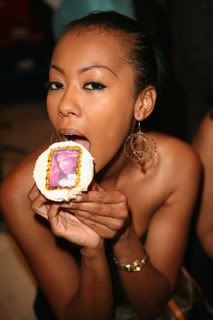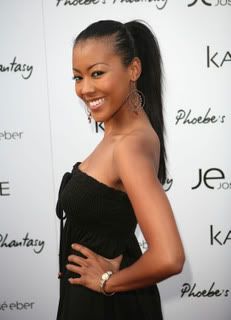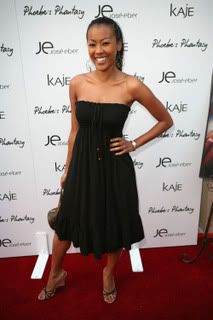 I've never seen any Denyce Lawton films, I wonder why that is. Oh well she looks as gorgeous as ever.
Al Reynolds celebrated his birthday with wife, Star Jones over the weekend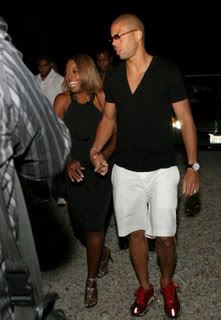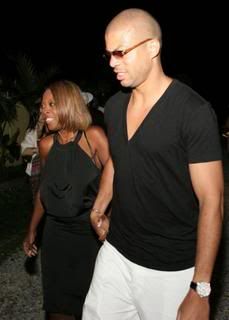 Naomi Campbell attended Crown Prince Pavlos of Greece 40th Birthday Party in Chelsea, London on Saturday
How ironic that Naomi is dressed as an angel, don't worry Naomi we are not buying it we know you are still crazy as hell. Especially since it was only last week that she settled a lawsuit with an Aide she was accused of beating down in July 2005.
When Stars Talk Shit: The Kelly Rowland Edition
Kelly Rowland believes that Beyonce should have won an Oscar for her performance as Deena in Dreamgirls.
The
Like This
singer says, "I tell you what, though, Beyonce was robbed of the Dreamgirls Oscar.
"She did a great job.
"Mind you, that won't be her last opportunity. She'll have plenty of Oscars in the future."
I'm sure by now you all know how I love Ms Kelly but it's things like these that really piss me off. You might think it's a bit harsh to file it under when stars talk shit since I'm sure deep down she really believes that what she is saying is true. SMH! But seriously WTF is she on about? It's one thing to love and be completely devoted to Beyonce but there is no need to start lying to her too. Don't get me wrong B is a great singer and performer but a Oscar wining worthy actress she is not! Kelly just stop it now and think about promoting your new album Ms Kelly because Beyonce doesn't need all this publicity but you do. Ms Kelly drops July 3, make sure you cop it. Yes I had to drop the plug in what can I say I love the girl I just wish she would step her game up and shut her mouth when she ain't got nothing constructive to say.

Source
Common's Finding Forever Album Cover
Finding Forever is Common's 7th studio album set for release July 31st.