Kelly's second single from her forth coming album,

Ms. Kelly

will be
Ghetto

, produced by Tank and featuring Snoop Dogg.



"Ghetto

is about good girls who dig bad boys and it's one of my favourites," Kelly admits. "As soon as Tank played it, I knew and recorded it in an hour. 'Ghetto' is just so laid back and that's why I had to have Snoop. He just gives it that something. I like it when a song can make you feel good."



Check out the the official album cover for

Ms. Kelly

(courtesy of urbanbridgez.com):


I like the cover, Kelly is looking fierce. Its looks much better than the overdone black barbie promo shots that's been floating around.

Kelly's album has been pushed back for the second time, instead of a June 26 release, it will be in stores July 3. I hope its worth all this waiting.




Beyonce performs on stage during her concert in Zurich, Switzerland
According to Women's Wear Daily, Beyonce is set to be
the face and the voice of Giorgio Armani's next women's fragrance, called Emporio Armani Diamonds, due out in the fall.
Beyonce will appear in both print and TV advertising and will sing her own rendition of a classic American song.

You know when Youngbloodz said "cant stop wont stop" I'm sure they were talking about Beyonce, no joke she is without a doubt the hardest working woman in showbiz, she is on some JLo world domination shit. Love or hate her, there is just no stopping her!



Rihanna continues her week long co-hosting stint on MTV's Total Request Live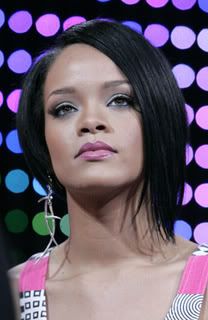 Listen to Rihanna's new single

Shut Up & Drive

here



Shut Up & Drive

has the same electronically charged sound like

SOS

and it samples "Blue Monday" by "New Order".



Shar Jackson attends the Christina Fulton hosted Charity Event at Sugar in LA
I see everyone's favourite baby momma, Shar Jackson has recovered from her recent plastic surgery and like a old wrecked train she refuses to crash. She is launching a pop career and she wants to collaborate with the Neptunes hit-maker Pharrell Williams on her debut album scheduled for release later this year. WTF? Can she even sing? How the hell is she gonna pay Pharrell, now that Britney's money has stopped rolling in. As always she is too ambitious for her own damn good and I dread to think what that album would sound like.


Akon Issues Apology To Trinidadian Teen

So Mr Crusty himself, Akon has issued an apology for wining up on teenager Danah Alleyne in Trinidad last month.


In a statement released last night (09May07), Akon says, "I want to sincerely apologise for the embarrassment and any pain I've caused to the young woman who joined me onstage, her family and the Trinidad community for the events at my concert.
"It was never my intention to embarrass or take advantage of my fans in any way, especially those under the age of 18. That is why we tried to make sure that the club did not admit anyone under 18 in the audience. Somehow, that standard was not met."
Whatever, I don't know what all the hype is about and although I'm not a Akon fan this whole damn thing has been blown way out of proportion. Where the hell was this girl's parents? Why was she allowed in the club and she is only 14? WTF is Akon on about pain he caused her, I've seen the video and she was more than enjoying it and I know he ain't sorry for shit, hes just saying all this garbage to save his career and sponsorships! That should teach him not to wine up his crusty self on women at his concerts because there was no need for it!